Cemetery Security Services
At Security Guard Solutions, we prioritize the safety and security of cemetery grounds. Our security guards are available round the clock, providing 24/7 surveillance to deter potential threats and maintain a watchful eye over the premises. They are trained to identify suspicious activities, respond to alarms promptly, and take appropriate action to mitigate risks.
We understand that cemeteries can experience busy periods during funerals and memorial services. Our experienced security guards excel at managing crowds, ensuring orderliness, and maintaining a respectful atmosphere. They possess excellent communication skills and are trained to handle sensitive situations with empathy and compassion, providing comfort and support to grieving individuals and their families.
Top Rated Cemetery Security Services
In addition to their security expertise, our guards undergo extensive training in emergency response procedures. They are prepared to handle any unforeseen incidents and provide first aid or crisis management when needed. Our commitment to professionalism, reliability, and customer service ensures that our security guards not only provide a secure environment but also offer a compassionate presence to those visiting the cemetery.
Choose Security Guard Solutions as your trusted partner in safeguarding the sanctity of cemeteries. Contact us today to discuss your specific security needs, and let our team of dedicated professionals provide you with the peace of mind you deserve in preserving the dignity and tranquility of your cemetery.
Cemetery Security Services
Our highly-trained security officers respond rapidly and efficiently to each assignment and maintain excellent relationships with our clients. We are committed to training our team to ensure that we employ only the best security professionals.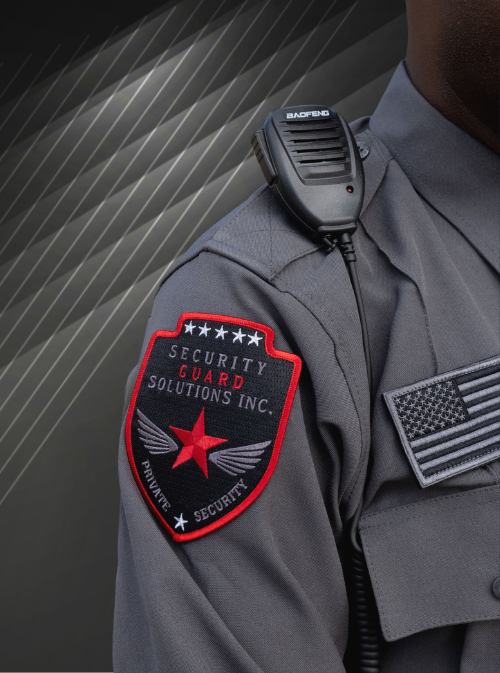 TOP RATED SECURITY SERVICES
Security Guard Solutions stands ready to meet your needs promptly and efficiently, through highly trained security officers and agents, using the latest in security methods and technologies.