Docks and Marina Security Services
At Security Guard Solutions, we understand the unique challenges and vulnerabilities faced by docks and marinas. With our extensive experience in the security industry, we have developed a team of highly trained security guards who are equipped with the knowledge and skills to safeguard your valuable assets and maintain a secure environment.
Our security guards are handpicked for their professionalism, integrity, and commitment to excellence. They undergo rigorous training programs that encompass various aspects of dock and marina security, including access control, perimeter monitoring, incident response, emergency preparedness, and customer service. By implementing a proactive approach, our guards maintain a constant presence, deterring potential threats and ensuring a safe environment for all.
Top Rated Docks and Marina Security Services
We recognize that every dock and marina is unique, with its own set of security requirements. That's why we take a customized approach to develop security strategies that align with your specific needs. Our security experts will conduct a thorough assessment of your facility, identifying potential vulnerabilities and designing a tailored security plan that maximizes protection while minimizing disruption to your daily operations.
In addition to our highly trained security guards, we utilize advanced technology and surveillance systems to enhance our services. Our state-of-the-art CCTV cameras, access control systems, and alarm monitoring enable us to monitor your property around the clock, providing real-time alerts and rapid response to any suspicious activities.
Docks and Marina Security Services
Our highly-trained security officers respond rapidly and efficiently to each assignment and maintain excellent relationships with our clients. We are committed to training our team to ensure that we employ only the best security professionals.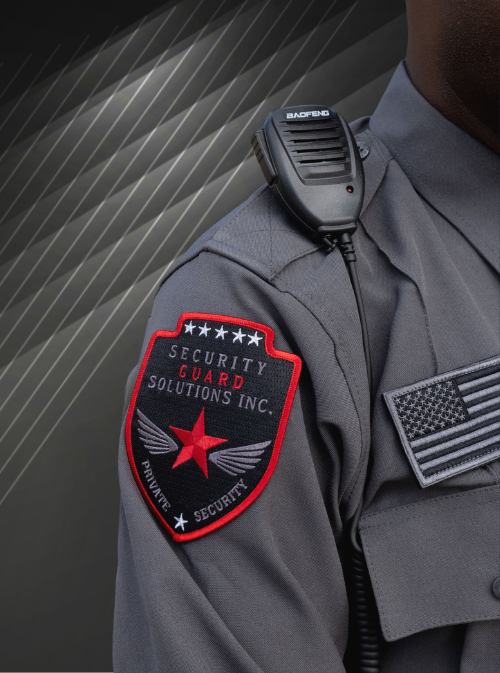 TOP RATED SECURITY SERVICES
Security Guard Solutions stands ready to meet your needs promptly and efficiently, through highly trained security officers and agents, using the latest in security methods and technologies.