Public Spaces Security Guard Services
At Security Guard Solutions, we understand the importance of creating a secure environment for everyone. Our team of highly trained security guards is equipped with the skills, knowledge, and experience necessary to handle various security challenges effectively. Whether you need security for parks, shopping centers, stadiums, or any other public space, we've got you covered.
Our security guards are carefully selected for their professionalism, integrity, and commitment to excellence. They undergo rigorous background checks and comprehensive training to ensure they meet the highest standards of quality and competence. With their strong presence, vigilant monitoring, and quick response capabilities, our guards act as a visible deterrent to potential threats and maintain a secure atmosphere for visitors and employees alike.
Top Rated Public Spaces Security Guards
We prioritize constant communication and collaboration with our clients to ensure seamless security operations. Our management team is available around the clock to address any concerns, provide updates, and make necessary adjustments to the security strategy. We believe in building strong partnerships with our clients, fostering trust and reliability every step of the way.
With Security Guard Solutions, you can rest assured that your public spaces are in capable hands. Our commitment to exceptional security guard service, professionalism, and integrity sets us apart as a leading security provider in the industry. Contact us today to discuss your security needs and let us create a safe environment for your public spaces. Your peace of mind is our top priority.
Public Spaces Security Services
Our highly-trained security officers respond rapidly and efficiently to each assignment and maintain excellent relationships with our clients. We are committed to training our team to ensure that we employ only the best security professionals.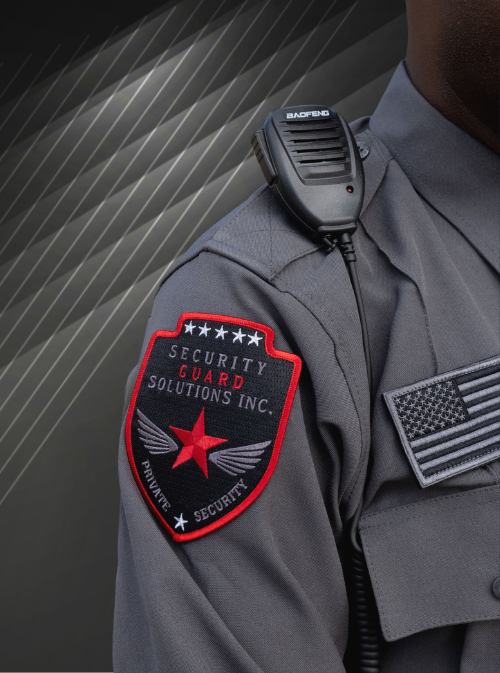 TOP RATED SECURITY SERVICES
Security Guard Solutions stands ready to meet your needs promptly and efficiently, through highly trained security officers and agents, using the latest in security methods and technologies.